"The two most important days are the day you were born and the day you find out why".  Mark Twain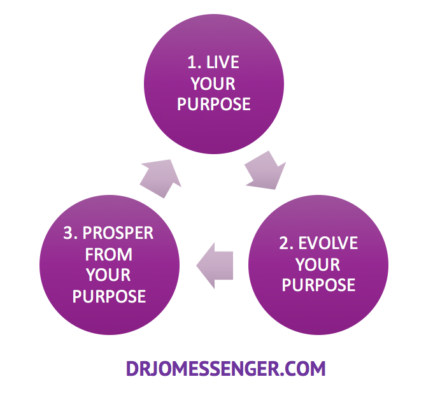 * FOR DISCOUNTS ON PROGRAMS AND MEDITATIONS GET MIRACLE MEMBERSHIP FIRST
Deep down inside you already know you were born for a reason, that you have a "life purpose". The sad thing is most people die without realising their full purpose.
Take a look around your environment and ask yourself: "Was I born to do this?"
If the answer is no, this is a gentle reminder to stop working hard in the wrong direction.
Do you know what you're passionate about and what you really want to do with your life?
Are you afraid of doing something new?
Are you self-sabotaging your optimal lifestyle?
LIVE YOUR PURPOSE is a progressive step by step guide, to help you find and Live Your Purpose without making unnecessary mistakes. 
This is not a rah-rah program full of hype that pumps you up and leaves you with no where to go.
LIVE YOUR PURPOSE is a program of substance- the first of 3 progressive programs (Live Your Purpose, Evolve Your Purpose, Prosper From Your Purpose) that will hold your hand like a best friend, and systematically guide you to:
Find your gifts and purpose. Your gifts are your gifts, and your purpose is your purpose. You already have them! We'll find and unwrap them together so you can use them in ways that bring success and fulfilment according to your personal definitions.

Get real, and gently and compassionately strip back the barriers, sabotage and limiting beliefs that have tripped you up so far, and give you a bunch of options of what to do about it.

The essential steps you need to guarantee success growing your gifts and living your purpose. Levels one-to-three will hand you on a platter, everything you need to put your gifts and purpose into action in the real world. I'll cover everything from how to align your goals of purpose with your inner masculine and feminine, to platforms and sharing with the world so you can achieve your dreams.
WHY DO THIS PROGRAM?
So you can live the life you were born for, and fulfil your soul purpose, not just be surrounded by a bunch of toys and still feel like something is missing
Avoid making unnecessary mistakes
Have an experienced guide walk you through every step of the way
WHAT DOES THIS PROGAM INCLUDE?
3 Modules
21 Units
Easy to follow instructional videos you can pause or replay, so you can go the pace that suits you best
BONUS Downloadable notes
In the past, you had to do what you were trained for. Now, you can reinvent yourself on your terms!
Whether you're stuck in a job you don't really like, already have a business or you're looking for a better one, then this course will help you align your natural gifts with your life purpose.
Earn your living from doing what you're naturally good at.
* FOR DISCOUNTS ON PROGRAMS AND MEDITATIONS GET MIRACLE MEMBERSHIP FIRST
*THIS IS COURSE 1 IN A SERIES OF 3 (1. LIVE YOUR PURPOSE 2. EVOLVE YOUR PURPOSE 3. PROSPER FROM YOUR PURPOSE). DO THIS LEVER FIRST.